Hobie offers fishing kayak models in a wide range of price points and features. This article will help you understand the main feature differences to help you determine which model is best for you. You can also use chat on this website, call us or stop into the store to get advice from a product expert. We encourage you to take advantage of our Hobie kayak on the water demos to experience various models first hand.
What Are The Main Differences In Hobie Fishing Kayaks?
Hobie fishing kayak specs. The image below compares the entry level Passport 10.5 with the top of the line Pro Angler 14 with 360 technology. These specs help you understand the difference between Hobie models. All the models on our website will show specs. We'll explain these specs and features below.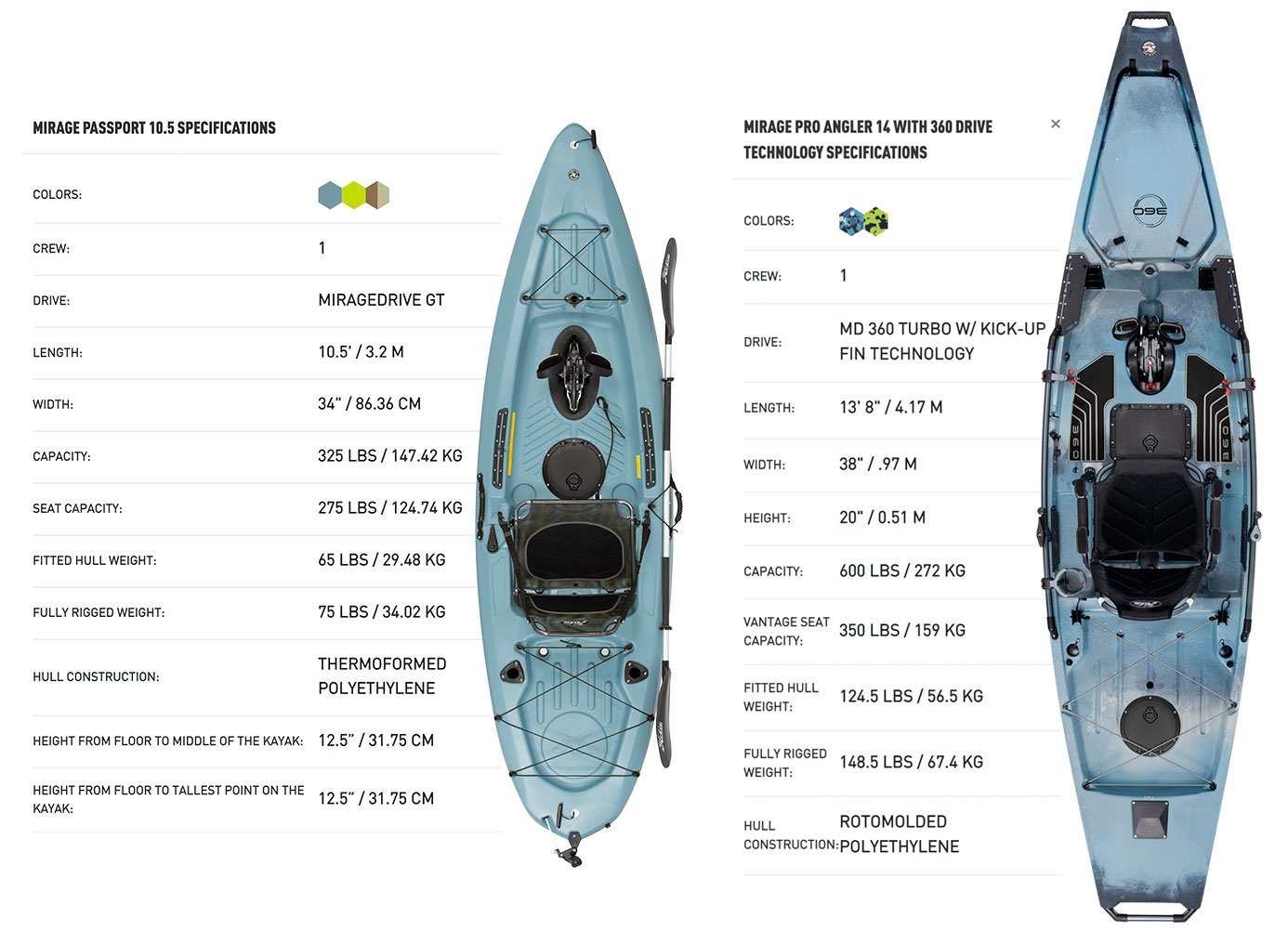 Hobie Fishing Kayaks Specs Comparison Hull construction.
Rotomolded kayak hulls are made by pouring plastic powder into a mold, heating it and rotating the mold to form a solid, single piece hull. The plastic is supple and can withstand the abuse of banging into rocks and being dragged across surfaces.
Thermoformed kayak hulls are made by heating separate sheets of plastic for the top and bottom of the hull by drawing a heated sheet of plastic over a mold with a vacuum and cooling. The two piece hull is then glued together. The two part construction is less durable than a single piece hull.
Length, width and weight of your kayak
Length and width are good indicators of how well a kayak will handle larger waves and how stable it will be. Many anglers like to stand and sight fish. A wider, longer, more stable kayak makes this easier. On the flip side, if you'll fish narrow, bendy streams a shorter kayak will work better. Knowing how you intend to use your kayak is important.
The Weight of your kayak is important to consider when you are transporting the kayak to and from the water or loading on or off your vehicle.
Mirage Drive features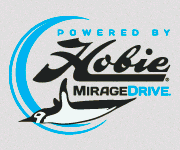 Hobie Mirage Drive Animation Hobie invented the original flipper style pedal drive over 20 years ago. The action of the fins mimics the way a penguin swims under water. Many other companies have copied the original Mirage Drive in recent years since it came off patent protection. Hobie has continued innovation on the Mirage Drive to include the MD 180 which makes going in reverse simple and fast. More recently, 360 Mirage Drive technology was introduced which allows kayak anglers to move in any direction. These innovations are not available on other fin style drives and give Hobie Kayak Fishing anglers with these drives a huge advantage in controlling boat position. Another advantage is kick up fin technology that is not available on competitor drives. It allows the fins to move upward if they come in contact with under water items like rocks or logs. Kick up fins protect the drive from damage, no competitor drives have this feature.
Other Hobie Fishing Kayak features
As you move up in price point, Hobie has built in more fishing specific features in the higher end models. Most anglers like to add some sort of fish finder, so Hobie has built in features that make it easy to mount the display and transducer. There are options for how and where you mount the battery. The whole system is designed to ensure a very clean installation with very little wiring exposed. More storage for everything! Kayak anglers like to bring lots of gear on the water. Multiple rods, lots of tackle, tools and more. Higher end models accommodate all the storage and additional weight carrying capacity any kayak angler could want. The Hobie H-Rail mounting system is another exclusive. Kayak anglers love to attach gadgets, tools, cameras, rod holders and more to their fishing kayaks. The H-Rail system makes it easy and super secure to add these items and move them as you see fit.
Go To Hobie Fishing Kayaks Collection